12 Jan 2021
MTA goes digital to deliver virtual MACH 2022 Preview Week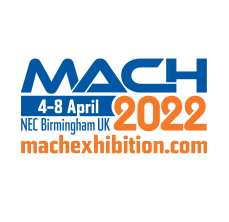 The Manufacturing Technologies Association (MTA), which owns and organises the MACH exhibition, has been working hard to ensure that even in these unprecedented times, the advanced manufacturing and engineering community can still come together virtually to connect safely, to innovate and be inspired.
As part of the preparations for MACH 2022, the MTA has organised a series on online seminars featuring top speakers from some of the manufacturing sector's leading organisations. Drawn from across the industry, the speakers will be providing high-level, exclusive content solely for MACH preview week.
James Selka DL, CEO of the MTA, said: "Having a strong digital platform in support of MACH it makes sense to utilise this to best effect. We have therefore prepared a virtual MACH 2022 preview to offer valuable insight into some of the important work being carried out by manufacturers, many of which are the unsung heroes of the pandemic, carrying out invaluable work through initiatives like the Ventilator Challenge.
"The virtual MACH event, which takes place between 25th-29th January, has been organised to offer visitors and exhibitors the opportunity to watch and interact with some of the manufacturing technology industry's best speakers, and to ensure that despite lockdown we can continue doing business."

The online seminar programme is as follows:
Tuesday 26th January
10:00-11:00 - David Holmes, BAE Systems - Tempest program for leading edge Manufacturing Technology
11:30-12:30 - Rhys Herbert, Lloyds Bank - Economic Update
14:00-15:00 - Professor Juergen Maier CBE, Made Smarter - Made Smarter
Wednesday 27th January
10:00-11:00 - Rab Scott, AMRC & James Lindsay, AMRC - Project ELLI
11:30-12:30 – A Panel chaired by Mike Wilson, Chief Automation Officer, The MTC - Simple Steps to Automation for SME's
13:00-14:00 - Howard Mitchell, HS2 - Supply Chain and Innovation
To register for any of these free seminars please visit: https://mach22.mapyourshow.com/8_0/sessions/#/

David Holmes OBE, Director of Operations and Technology for Air at BAE Systems, will be offer insight into the manufacturing technology his company is using in the development of its Tempest UAV programme. The Tempest is the next-generation combat aircraft, operating at the cutting edge of technological innovation to secure the UK's position as a global leader in air defence and combat. The program is set to deliver world firsts in advanced technical capabilities. The new aircraft is set to be a gamechanger and will eventually join the RAF in 2035 as a replacement for its Typhoon Eurofighter.
Rhys Herbert is a Senior Economist in the Research Department of Lloyds Bank Commercial Banking. He is responsible for analysing and forecasting trends in the UK and other major economies, with a special interest in the manufacturing sector.
Juergen Maier, former Chief Executive of Siemens UK and author of the Made Smarter report, is a leading figure within manufacturing. Chair of the Digital Catapult, he now co-Chairs Made Smarter and serves on the Industrial Strategy Council, which advises Government on Industrial Strategy. Juergen argues strongly for the modern re-industrialisation of the North of England and is a board member of both the Greater Manchester LEP and the Northern Powerhouse Partnership.
Rab Scott and James Lindsay, both of the University of Sheffield's Advanced Manufacturing Research Centre (AMRC), will be speaking on Project ELLI (Electrification and Lightweighting in Industry 4.0). They will explain how the centre is leading mid-TRL research across multiple sectors and capabilities, with the aim of increasing productivity for the project's partners and UK manufacturing in general.
ELLI encompasses the skills of five different AMRC capabilities including, lightweighting, battery cell manufacture, automation, additive manufacturing and advanced machining, each of which has developed a manufacturing demonstrator for an automotive assembly operation.
Mike Wilson leads the Manufacturing Technology Centre's drive to increase the adoption of automation throughout UK manufacturing. Supported by the existing expertise and extensive resources within the MTC, he looks to assist companies aiming to gain benefits from the increased application of automation.
Supporting this, Howard Mitchell, Head of Innovation for HS2, will outline how the new high speed rail network with revolutionise the UK's rail infrastructure and be the most important economic regeneration project in Britain for decades.
HS2 Ltd, which is developing the new railway, is committed to working with UK SMEs to deliver the project. Already, more than £20 billion has been contracted into the supply chain and each contract awarded will result in jobs and investment. Currently, 70% of the company's supply chain comprises SME's and 98% of those who have already delivered work for the project are UK registered companies.
James Fudge, Head of Events & Member Services at the MTA, said: "In order to facilitate the MACH 2022 preview week, we have a new platform in place which will enable visitors to create their own planners for the event once they are registered. They will be able to 'favourite' exhibitors, speaker sessions and contact exhibitors directly ahead of the preview week, as well as after the event. This same platform will then be used for the actual MACH 2022 show."
James Selka concluded: "The MTA's aim is to provide the UK's manufacturing community with the latest insight into productivity improvements. We are constantly communicating with the top tiers of the UK manufacturing community and this will be beneficial as we look to preview MACH 2022 during January through a series of webinars and digital events.
"The great content we have been able to secure, alongside the products and skills of our exhibitors should make this a great week. We strongly believe that this new platform will provide added value for both visitors and exhibitors and allow connections to be made throughout the 'usual' two-year cycle as well as during the week of the exhibition itself."
To register for any of these free seminars please visit: https://mach22.mapyourshow.com/8_0/sessions/#/
To keep in touch and register for MACH 2022 and start exploring please visit: https://www.machexhibition.com/visit/visitor-registration#/