MACH 2018's EDUCATION &
DEVELOPMENT ZONE WILL INSPIRE
THE NEXT GENERATION OF ENGINEERS
Inspiring, educating and training the next generation of engineers has always been a high priority for MACH exhibition. Once again, MACH 2018 will feature an extensive Education and Development zone, as well as offer guided tours for students around the exhibition, led by apprentices and graduates within the industry.
The zone features a number of inspiring exhibitors including Bloodhound, who have recently been running their supersonic car in the UK, and Jaguar Land Rover.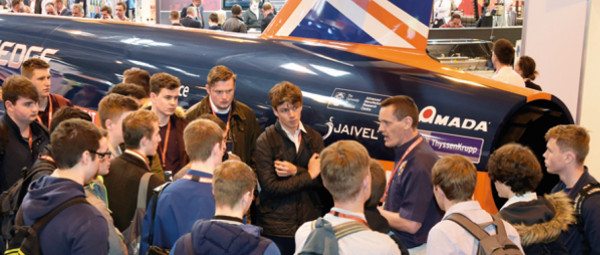 Edward James, Managing Director – Citizen Machinery
"We need to engage and embrace the youngsters and get them into the industry, bringing them round the stands and spending some time with them to explain exactly what we're doing. If just one or two really embrace that, it's been a success."
The importance of initiating new talent into the industry is twofold. On the one hand, transmitting skills to future engineers is crucial for keeping the sector alive and thriving, and on the other, the next generation can generate ideas that challenge businesses to grow and consider their existing processes from a fresh perspective.
Edward added, "We've found that by bringing younger people into our business, we're bringing in a vibrancy; our young engineers ask us why we're doing the things the way we're doing and challenge us. To bring that to MACH, we take our younger people with us, we engage them with the students to show them that there is a promising career in manufacturing. It's not a dirty word anymore. UK manufacturing is an exciting place to be."